LDS4.0 LDS+SLAM Navigation Hybrid robot vacuum cleaner - Mamibot EXVAC890 Wisor- the best Mamibot robotic vacuum cleaner
​
The truly strongest

Hybrid LDS robot vacuum cleaner

with maximum 4000PA vacuuming power, featured in 3 levels of water dripping speed, 4 levels suction, trash self-emptying, cleans about 60-215 sqm floor in one full charge.
UP TO 4000pa
by LASER NAVIGATION
EXVAC890 GLORY
Trash self-emptying
MAMIBOT'S LATEST GENERATION
WHY BETTER?
LDS Generations

LDS2.0

LDS4.0
​
Navigation Middle

High
Efficiency
​
Map Saving Yes

Yes
​
Timely map Yes

Yes
updates
​
Relocation Partly

Available
After moved
​
Docking Middle

Very high
Accuracy
​
Appointed Yes

Yes
Area Cleaning
​
Mopping zoning No

Yes
​
Auto Zoning Yes

Yes
​
Water leaking No

Yes
controllable
​
Water tank Max170ml

370ml
​
Max suction

2000pa

4000pa
Mopping mode Bottom

Built-in
Detached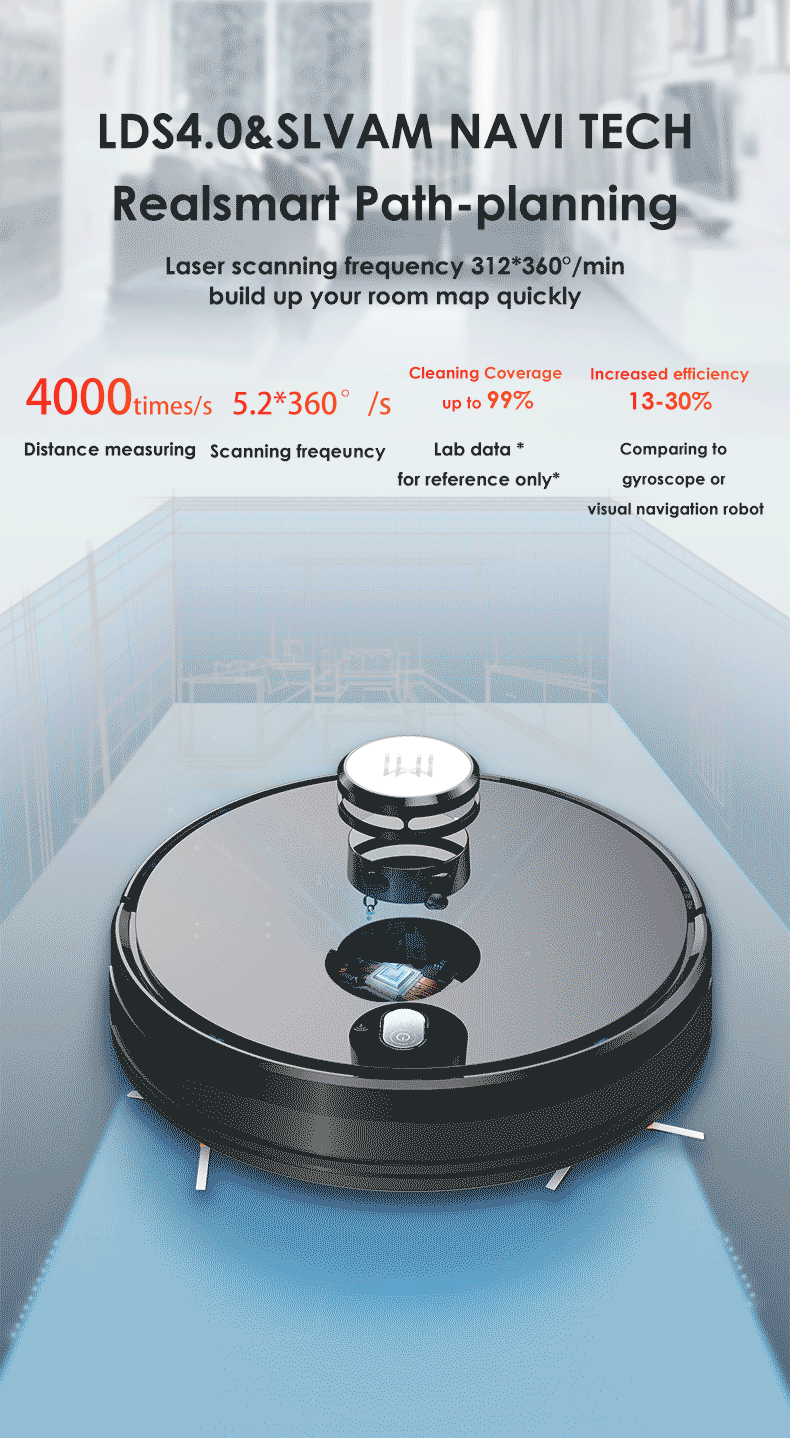 Smartness and high performance
R16+DDR A7 4-core chip combined with SLAM Algorithm Powered by LDS4.0 Laser Navigation
Precise
​
Smart Auto
and Precise navigation
Intensive





4000pa super acuuming by a fan motor of 30000rpm 4 levels of suction power
All-in-One
​
9.8cm slim, APP control the best Hybrid robot integrated mopping, vacuuming and sweeping
Long-lasting
​
370ml water tank+5200mAh battery Mopping time: 150-215min Vauuming time: 60-215min
Choose the right mode for your house cleaning
​
​
The truly hybrid robot
Mops floor better
Microfabric cloth
Gentle but tight
3 levers of leaking
Electronic Controlled
370ml water tank
Longer wetting time
Resuming Cleaning*: when the robot is moved to another position manually, or goes for recharge in low battery, it will go back to the point to clean the unfinished area
6 Cleaning options
Which do you prefer?
Auto Cleaning
Automatically draws
smart cleaning plan
Virtual no-go zone
Set up your no-go area
Hybrid
Mopping and sweeping
Selective Cleaning
Appoint one area to clean
Scheduling
Set up multi
cleaning appointments
Max vacuuming
Choose 4000pa max
suction power
Abt 4000pa suction
Hair/beans/dust/even metal balls
can be sucked up easily.
There are four levels of vacuuming power 1000PA/1800PA/2880PA/4000PA supported by a fan motor of 30000rpm to meet your various demands
Twin side brushes
Collect dust from two directions and gather in middle suction port
Optimized airflow system
Better air-tight minimize air leakage
3-level filtering
Primary filter+foam+HEPA avoid secondary air polution
Effective but easy brush
Effective in sweeping, easy for maintenance
370ml built-in water tank
3 levels of water leaking
Water dripping is controlled electronically by chip, mops an area of 150-220 sqm in one full charge Change to mopping mode automatically when water tank is on
370ml for bigger mopping capacity
Maximum 150ml only for smaller area
Stop dripping in parking, triggered by your order
Dripping whenever attached
3 levels controllable speed
Dripping speed not controllable
Bigger area in one 30CM wide cloth
Uneven leaking in narrowed area
9.8cm slim design
Reach furher, clean more
Lower profiled
Glory is lower than most LDS robots,only 9.8cm in height and it goes underneath as beds/sofa /desk and other furniture easily.
Climbs up to 2cm obstacles
Lab data for reference*
​
Wisor goes over carpets, thresholds, doorsills in no hesitation when the obstacle's hight is not more than 2cm (0.8in)
ALL-IN-ONE APP Control

Glory is in when you are out
Scheduling, appointing cleaning area, adjusting suction power of the robot. Pause/restart/recharge your robot when you're out.
House cleaning never becomes so comfortable.
Voice Controllable*
Amazon Alexa/Googlehome/ Tmall genie compatible
Less Emptying Frequency
​
Dust bag capacity: 2.5L
Automatic sealing
​
Pop-up bucket cover
Two-in-one
​
Charging station and dust collector integrated
Stylish designed
Looking Simple, Working Hard